This post is composed from some sources on the internet about email management.
What Is The Inbox Zero Approach?
As a hard approach to managing your emails, Inbox Zero is designed to help keep your inbox clear or almost empty so that you don't have to stress over your emails. Inbox Zero was created by Merlin Mann, a productivity expert. According to Mann, the term "zero" isn't about the number of messages in the inbox. It's "how long it takes to use the inbox." Per Mann, it is how to use your time to check your to-do list and your email so that you could save more time and money in the long run. Mann has taken the time to identify five potential actions for each of your inbox messages.
You can:
Delete 

Delegate

Respond

Defer

Do
This is the Inbox Zero process. The "Delete" phase is executed from the email feed. You don't move emails for deletion in any folder. You delete them.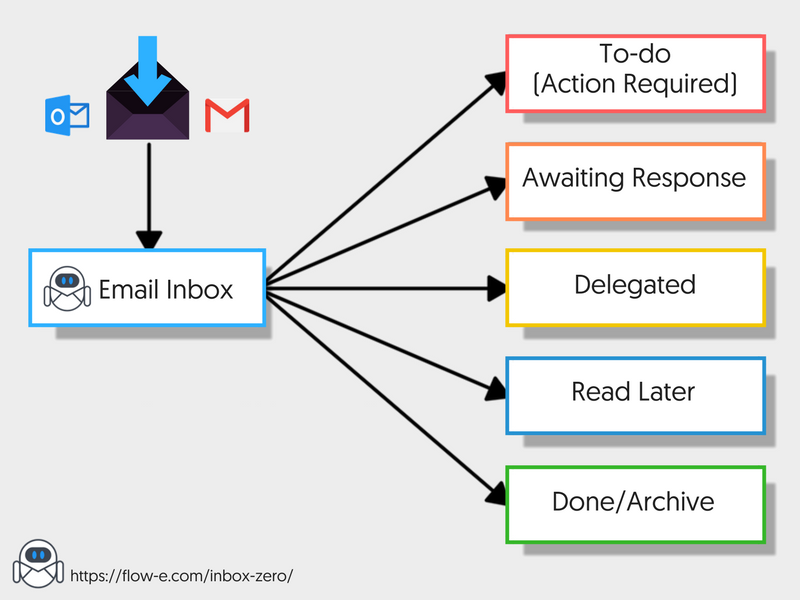 Here is what Merlin Mann Inbox Zero system preaches:
Never leave the email client open, you must do an action for each of your emails and do so immediately.

Take the time to process your email several times per day may be at the top of the hour. 

Delete or even archive as many of the messages as you can possibly do each time you're in the email, if you have 2 minutes, use it wisely and take care of some emails, it will save you a lot of time in the future.

Respond to new messages immediately if you can do so in under 2 minutes.

Messages that require more time should be moved to be dealt with later: You can put them in a separate file, make sure that you set up files for each topic and keep track of these files so that you're always able to put your fingers on what you need when you need it.

Take time daily to respond to the emails in this folder to keep them current. 
The Method To Achieve Inbox Zero
We are everyday emailers and we will handle the inbox and reply to our messages as they flow in. This is for the busy person that hasn't taken the time to organize their inbox and learn strategies and tricks.
Organized processing for managing your emails is the best part of Everyday Emailers per Mann's original method; it's rooted in the form of time management and getting it done.
We're always getting emails from employees, customers, supervisors, investors, dad, mom, aunts, uncles, the media, and more. To navigate this minefield, it's challenging at best especially if you're busy with kids, work, family and more.
Each time a new email comes in, ask yourself what to do with it:
1) What does this mean to me and do I care?
2) What do I need to do with this email?
3) What is the most prudent course of action for this email?
The Five Columns/Folders You Will Need
Per your answers to the questions you just read, you'll need to create five columns/folders:
1) To-do: do it now
2) Awaiting a response: these can wait
3) Delegated: delegate emails to others
4) Read later: articles, newsletter, which you can read when you have the time
5) Done/Archive: the best option is to use tool which archive your emails on done
Bonus: David Allen shares quick GTD tips for managing email.
Read more:
How to Set Up Inbox Zero for Gmail with Flow-e
How to Set Up Inbox Zero for Outlook with Flow-e
Chúc tiến bộ.