Bài này giới thiệu một kho tài liệu khổng lồ, một mỏ vàng lộ thiên trữ lượng lớn cho những người yêu thích ngoại ngữ.
Tất cả tài liệu học tập ở đây thuộc Viện ngoại vụ (FSI – Foreign Service Institute) của chính phủ Mỹ. Những tài liệu ở đây được dùng để đào tạo ngoại ngữ cho các cán bộ ngoại giao, có hơn 80 ngôn ngữ được cung cấp.
Đó là trang fsi-language (trang gốc, đã cũ và không còn được bảo trì, trình bày đơn sơ).
"About this website:
Welcome to fsi-language-courses.org – the home for language courses developed by the Foreign Service Institute.
These courses were developed by the United States government and are in the public domain.
This site is dedicated to making these language courses freely available in an electronic format. This site is not affiliated in any way with any government entity; it is an independent, non-profit effort to foster the learning of worldwide languages. Courses here are made available through the private efforts of individuals who are donating their time and resources to provide quality materials for language learning." – from FSI website
Tin vui, có một anh tên Darren là một người yêu thích ngoại ngữ và đam mê lập trình đã làm lại trang web này, làm cho nó tiện lợi hơn và đẹp lung linh. Các tài liệu được sắp xếp dễ tìm, dễ nhìn và dễ tải về.
Giao diện của web site mới http://www.fsi-language-courses.net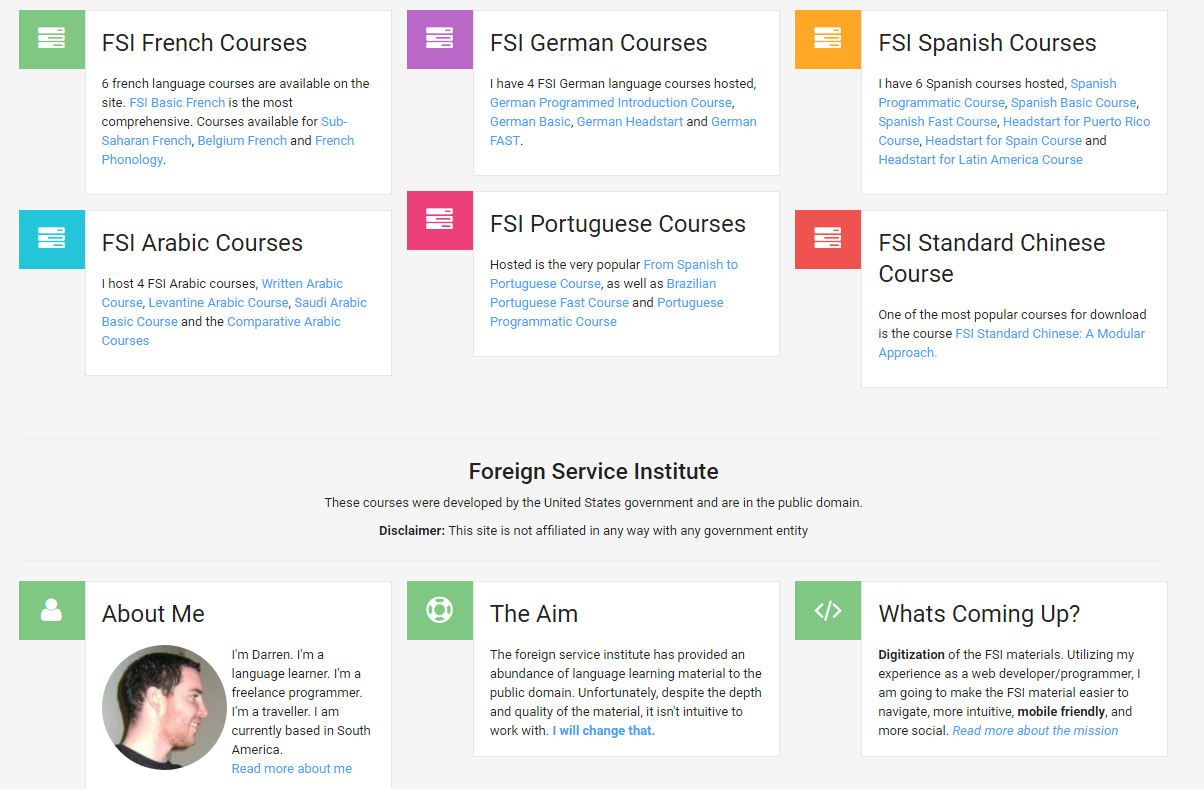 Giao diện tài liệu của 1 course
Video giới thiệu về FSI Language Courses
Cá nhân mình đánh giá đây là kho tài liệu quý, có chọn lọc kỹ lưỡng, không rườm rà, có tính ứng dụng cao. Người học nghiêm túc chỉ cần bám sát course book và audio, luyện tập chăm chỉ là có thành quả.
Tham khảo: Bí quyết học nhanh chóng được nhiều ngoại ngữ của một nhà ngoại giao
Chúc tiến bộ.