Have you ever wondered what the most common Chinese characters are? In a language of approximately 20,000 words, mastering the most crucial characters will benefit you on your path to language greatness. Whether you're a newbie ready to begin reading and writing in Chinese, or a seasoned student brushing up on your basics, learners of all levels benefit from reviewing the most essential Chinese characters.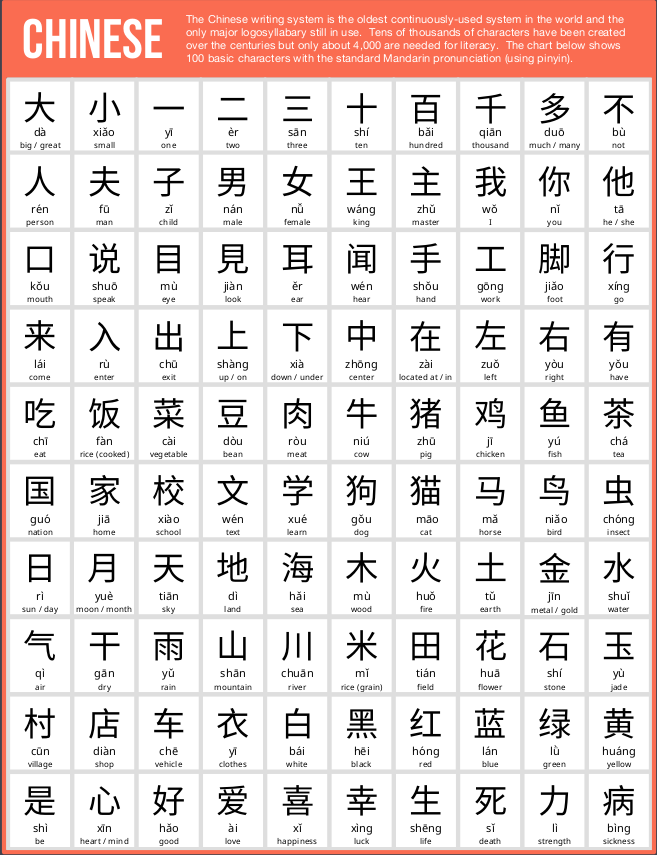 The following list of 100 most common Chinese characters is based on data from classical and modern Chinese writings collected by linguist Jun Da.
<grammatical particle marking genitive as well as simple and composed adjectives>
one, a little
to be
not
verb particle marking a new situation or a completed action
person
I, me, my
at, located at
have, there is
he, him, his
this
middle, in
big
come
above, on, over, top, (go) up, last, previous
country, state, nation, <family name>
<general and non-specific classifier>
(ex. 个人 | gèrén | personal)
to, towards, until, arrive, reach
explain, scold, refer to, (=说话 shuōhuà) speak, say
<pluralizing suffix for pronouns and nouns referring to persons>
(ex. 我们 | wǒmen | we)
for, for the sake of, in order to, in this connection
child, son
together, with
you, your
(Alternative feminine form: 妳 nǐ)
earth, ground, soil, place, position, distance
go out, come out, in direction out from something, emit, issue, prouce
way, path, channel, way, say, a streak (of light), doctrine, <classifier for rivers, topics, etc.>
also, as well
period, season
year
<adverbial particle: verb + 得 + descripion>
(ex. 走得快 | zǒude kuài | walk quickly)
just, simply, right away
就要 jiùyào about to (do something)
that
want, will, shall, need, important, essential
below, under, (go) down, next (as opposed to previous/last)
use, take, according to, because of, in order to
give birth, life
can, able, meet, meeting, society, union, party
from, since
verb particle marking a continuing progress/state
go, leave, depart
subordinator similar to 的 de
pass, cross, go by, exceed, <verb particle marking that someone has had the experience of doing something, that it has happened at least once>
home, house, family
study, learn
correct, answer, treat, agree, mutual, pair
~able, (=可以 kěyǐ) may, can
she, her
neighbourhood, half kilometer, <family name>
queen
small
(interrogative suffix)
什么? | shénme? | What?
heart
many, much, more
sky, heaven, god, day
and, furthermore
can, be able
good, good to…, easy to…
all
right, correct, so, like that
(=没有 méiyǒu) haven't, there isn't
sun
in, at, for, to, from, by, than
rise, start
still, yet
deliver, utter, express, shoot, emit, develop, expand
(=成为 chéngwéi, =变成 biànchéng) become,
<family name>;
成功 chénggōng succeed;
完成 wánchéng accomplish, complete, fulfill;
成语 chéngyǔ idiom
matter, affair, thing, event, accident, job, responsibility
only, just, merely
do, make
serve as
think, feel, consider, want, remember
see, look at, read, think, consider
language, literature
without, nothingness, have not
open
hand, a person skilled in something
ten
use
lord, master, host, god,
go, OK
side, square
again, both… and…
like, as, as if
in front, previous, ago, former, first
place
basis, origin, edition
classifier for books, periodicals, files, etc.
appear to be, meet with, call on
longitude (both geographic and in Chinese medecin), scripture, constant, regular, <family name>, deal with
head, top, first
face, surface, <classifier for mirrors, flags, etc.>
public, official
same, with
three
stop, cease, end
old, venerable, outdated
from, through, join, follower, secondary
move, change, arouse
two (before classifier), 50 grams
long, lasting, length
Sưu tầm.